Two days before Christmas last month I went to a Walmart store in an unfamiliar neighborhood in hopes of finding Queen's Greatest Hits for my son ("We Will Rock You" had become his anthem). According to Walmart's website, it was in stock at this particular store in an area that I did not know. In the past few years, my shopping has mostly been done on-line – no lines, no cranky people, but also no interesting experiences.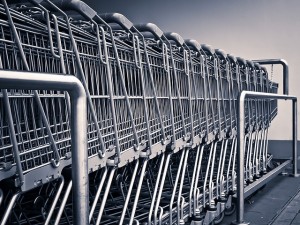 This particular Walmart was chaos contained in 50,000 square feet. The parking lot itself was a challenge with people zooming all over, all trying to get the best spot; there was a truck sitting in one of the main lanes not moving, possibly not running, while everyone tried to get around or figure out how to back up. I was driving our big truck because I had to get hay for our animals. I already felt out of place maneuvering this huge vehicle and trying to squeeze myself into a spot at the very end of the lot where I could hopefully get back out again without damaging other cars.
"Get in and get out," I told myself walking into the store.  I sucked in breath as I saw the madness of Walmart near Christmas. The register lines were endless with people of every nationality looking frustrated and stressed, the displays at the front had been damaged from so many people going by, and the chorus of children crying drowned out the bad Christmas music over the speakers.
"Music section, music section," I directed myself through the throngs of assorted disgruntled shoppers. I had no idea where that would be. My luck usually dictates that it would somewhere completely across the store and I was not disappointed: it was in the very back corner. I finally reached it only to find the CDs in absolutely no recognizable order; if one happened to be in the right alphabetical spot, it was only by chance. And, as I guessed, Queen was nowhere to be found. In fact, there was were nothing in the Q section that started with such a letter. I halfheartedly looked through the surrounding area and the closest I found to classic rock was Poison.
An overweight and bored employee attempting to put CDs in their rightful places asked me if I needed help."Have you seen any Queen around here?" I asked doubtfully. He laughed as though I asked him if there was a pot of gold at the end of aisle six. I told him that Walmart's website said that it was in-stock here. This made him laugh harder. He then went on to tell me about an outside website where I could buy an entire MP3 album for $1.50 instead of playing $10 at iTunes. I told him thanks, noted that there was no employee loyalty lurking here, then went to get a gallon of milk so I could get out of this place.
Throughout my adventure in the store the loudspeaker kept announcing that "Giovanni has lost his mom" and would she please come to the front to find him. At first, I was concerned for both parties, being a mom myself I would be distraught if I lost my kid. After the fifth announcement for poor old Giovanni, I started to think that maybe his mom didn't want to find him. Finding the milk, I politely said "excuse me" to another shopper who was staring into the case. I opened it, got my milk, then held it open for her as I assumed she was getting some too. She looked at me, rolled her eyes, and kept going down the aisle. "OOOkay," I said to myself, resolving to leave this place and not linger another moment.
I walked up to the registers to find that the chaos had settled somewhat. I found a line that looked promising and watched as a mother and a teenage daughter argued over going back to get something. The girl's attitude suggested that she was not doing it, but the mother's bigger attitude prevailed, and the girl went to get whatever missing item they forgot. I noticed that they were next in line but the woman did not look like she was willing to let anyone past, even if that meant she held up the line for the next half hour. "Next line," I said to myself. I went over one register and found a person trying to buy something with no price and attempting to argue with the cashier over the real price of the item in broken English with no success. Another woman in back of me kept sighing very loudly and saying things to herself about the scene.
This went on for another five minutes. I noticed that Giovanni had finally been reunited with his mom, who had four other children with her and looked like she didn't care if she had ever found him again. Finally, another cashier opened up and I dashed for it only to find another woman trying to get there faster. As usual, I heeded to the other shopper, not finding it worth the effort to argue over who was there first. To my surprise, she told me that I got there first and to go ahead. "Really? Thanks!" I said looking over at the line where the teenager had still not returned and the people behind the mother getting thoroughly pissed off while the mother looked completely unperturbed, if anything she was seeking a challenger to fight.
The cashier was an older African American woman who was very friendly and helpful, and didn't seem to mind the Christmas craziness. I paid for my milk and got out of there as fast as I could. The line with the mother and absent teenage girl was starting to get very heated, eyes were starting to bulge and chests heave. "Thank the lord!" I said to myself, dashing to the truck only to find three carts piled up behind it. I got them lined up and moved them to the overflowing cart return, not seeing an employee in sight who would be taking them any time soon.
Getting in my truck, without the CD that I originally sought, I watched as the public transit whizz by, heard horns honking in the distance, and just wanted to leave this store and this place and never come back. I wanted to go home to our very quiet and nature laden neighborhood, where I don't see another house next to mine, where three cars constitutes a traffic jam, and where animals are more prevalent than people. And I did, after squeezing through the parking lot where the same truck from earlier had not moved; I drove forty-five minutes north east of there, and breathed in the country air, and was glad for it.
Visiting this Walmart in this an unfamiliar neighborhood was good for me, however, because it truly made me appreciate what I have and where I live. I unloaded the hay and was glad for the sweat and effort that it took. I realized that it would be very hard for me to live in an area anywhere near a Walmart, even though I have lived in suburban and somewhat urban areas in the past. We worked hard to get here and it suits me; it would be difficult to live any other place.
It also made me realize that living on five acres in the country is my attempt to hide from reality. In this case, I was trying to hid from Christmas insanity, and it showed me why I should shop ahead and on-line where I deal with no people. But what are the
consequences of that? Besides getting to maintain my sanity, am I depriving my children and myself of seeing other ways of life? Will my kids be unable to handle a chaotic situation surrounded by unfamiliar people one day because I avoid these places?
In truth, I barely take them to any retail store beyond the grocery store because I don't want to hear about all the things they want. We often avoid retail entirely so they can't see and don't know what they don't have.  However, I do think that my way of life "in the country" is a shield from other realities; and I have found that I am not the only one. Most of the people near us live out here for a reason: for some it is their retirement and they want to "get away from it all;" for others, it is wanting their kids to grow up in a place where they can get dirty, and some have just lived here their entire lives and are content with that way of life.  Either way, I'll take my isolation, be glad that I am not Giovanni or his mom, and next year, shop ahead on-line, at least near Christmas time!