I like to believe, or maybe want to believe, that once I "have it all together," then my life will flow so easily and effortlessly. Like once I can check all the boxes of: exercise daily, write daily, eat well, meal plan for the week, drink less alcohol, drink more water, meditate, stretch or do yoga every day, keep up on this dang blog, save more, budget better, journal, monitor my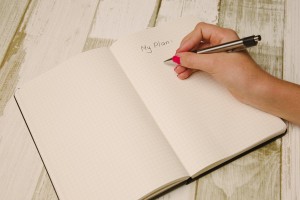 kids' screen time, monitor my own screen time, date night once a week…the list goes on and on. Somewhere in my head I think, yes, that's it, once I consistently do all those things, my life will be easy and good, even perfect.
But will it? True, many of those things will help, but I always fail to see the reality tucked in between those healthy tasks. Like, injuring myself so I can't exercise, hearing that my mom is continuing to decline so I skip the meal planning, just plain being lazy so I don't stretch or journal, that list goes on too. Where is the middle ground? And when will I accept that life isn't so black-and-white? Doing all those things will benefit me, but they won't solve anything. Maybe that's what I'm looking for, the solution to stress, sadness, a stiff and aging body and brain, overwhelm, grief – and wouldn't I be richer than Jeff Bezos if I could bottle and sell that magic potion? (Ah, to dream)
In the end, I suppose the real solution is to accept that life isn't meant to flow easily and effortlessly all of the time. Even Jeff Bezos has bad days; and who knows, maybe he is so discontented with his billionaire's life that he has to leave Earth on his rocket ship to get some perspective.
Where does that leave us though? The "regular people" who don't have his money (or want it), and also realize that dollars wouldn't solve our problems either (at least not all of them). For me, it's probably picking a few of those things listed above and trying to do them on a daily basis. Doing all of them would be nice, but let's be realistic, it's not going to happen. If I start with one, like keeping up on this dang blog, I've already accomplished something. Yay for me!
And, of course, the funny and ironic part is that many of those healthy things would help anyway (exercise for stress, meditate for overwhelm, etc). It's just that doing them requires effort and discipline. And that's where I start all over again – if I only made more of an effort and had better discipline, my life would be…