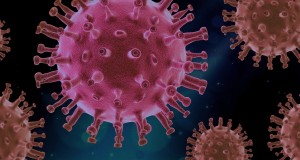 The title says it all, I caught COVID-19 (it was well over a month ago so don't worry if I've been in your presence lately). Yes, I was just as surprised as you are. I live in California, which is a hotbed of cases, but where I live in NorCal, there haven't been too many, especially in my county in the sticks. And, yes, I took the precautions we're all told to take: wear the mask, hand sanitize, wash my hands, avoid touching my face, etc, etc, but I caught it anyway.
Everyone has been so curious about my experience, asking questions upon questions. My guess as to why is because 1) they don't know many people who have had it yet (at least not that they know of), and 2) they want to know the details for if/when they catch it. So, here's my rundown.
I went shopping in a nearby town on a Sunday, an area much busier and more populated than our small town. I went to three stores. I'm pretty certain that I picked it up somewhere during that time. If I count back the days, it makes the most sense. I felt symptoms four days later. I was driving back from visiting my husband's family while he and other family members went on a fishing trip.
During the two-hour ride home I started to feel "off," that crappy feeling when you know that you're catching something. My chest felt tight too, like I had a weight on it. When I got home the symptoms continued. I took my temperature – 99. I am almost always in the low 98 range, so I was alarmed, but tried to reason that I was probably fine. How could I catch it?
That night I slept poorly. I woke up every hour or so. At midnight I took my temperature again, 101. I started to panic. "Oh no, I have it!" I thought, and struggled to get a little more sleep in the wee hours of the morning.
I felt bad the rest of the day, mainly fatigue and the overwhelming dread of knowing I'm in for some kind of illness. That night I had a weird headache in the back of my skull and my fever came back again. The next day I called my doctor and we had a video appointment. I relayed my symptoms: fatigue, slight sore throat, slight heaviness in my chest, headache. She told me that my symptoms may or may not be the virus. She's seen patients with those symptoms who tested negative and some who tested positive. Basically, a non-answer. She did recommend I get tested, however, and thankfully I was able to do it the next day, on a weekend. The test results would take 24-72 hours.
In the meantime, I sat like a zombie on the couch and watched TV. I felt bad, but not bad enough to sleep. I delayed my husband returning so no one would be unnecessarily exposed. Twenty-four hours after my test, I got the result – "virus detected." I was dismayed, but not completely surprised. I had most of the symptoms listed (minus the stomach upset and lack of sense of smell).
I then went through the uncomfortable process of telling people I recently saw that I was positive for COVID. It was awkward and I felt terrible, like confessing that I exposed them to a possible life-threatening carcinogen. Thankfully, they all took it well. Some of them got tested, all came back negative.
Most of my symptoms soon went away except for congestion in my nose, and then, five days after my initial symptoms, I lost my taste and smell completely. That morning I had my usual tea. It is normally fragrant and flavorful, but not that morning. It had no taste whatsoever; hot water had more flavor. I couldn't smell it either. I then stuck my nose in the pot of freshly brewed coffee – nothing.
Over the next week, I dealt with tasting nothing, smelling nothing, and worrying that I would be stuck that way. You don't realize how much these two senses are a part of your life until they're suddenly gone. My husband would talk about what to eat for dinner. I didn't care. I couldn't taste it anyway. Why waste delicious food on me? It was devoid of anything rewarding for my taste buds. Comfort food, a sugary treat, a great cup of coffee – all of it was pointless.
A week went by and I could slowly taste salty things, then sweet. After two weeks, both senses were at roughly 65%. I'm still waiting for it to return fully. I'm really hoping that it will. Yes, I know, I could be on a respirator in ICU fighting for life; or I could be a "long hauler," dealing with daily debilitating symptoms. I'm aware that my minor ailment isn't as serious, but this is my experience with the virus and yes, I'm thankful that I got through it all okay.
And my guess is that most people will too. But we don't know who will and who won't. And that's the scary part.
(My family requested that I leave them out of this post so, respectfully, I am.)