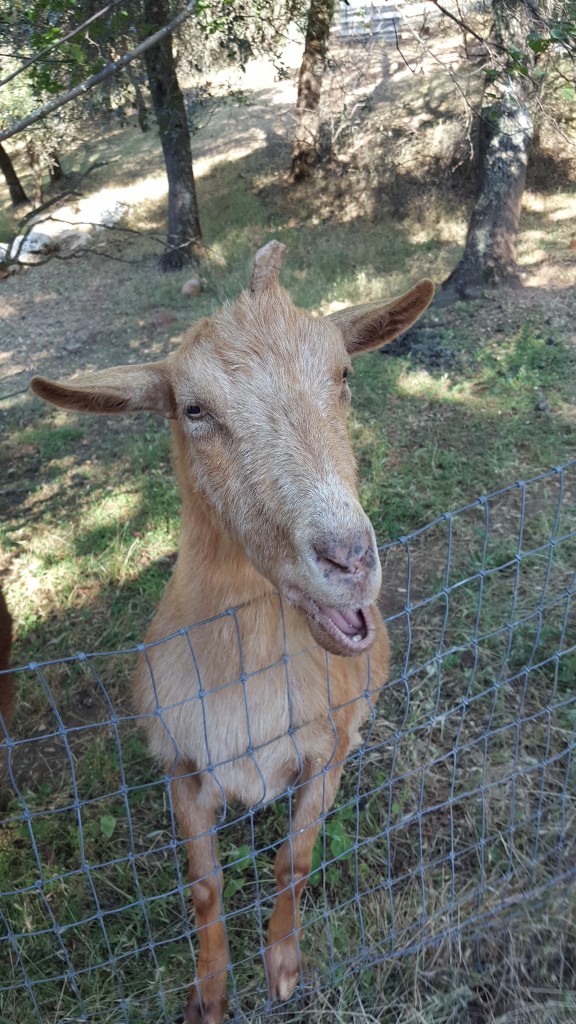 Last week, the vet put our old goat down. He had reached the point where no food interested him, his arthritic bones ached him to the point of limping, and he was ready to move on to the next plane. We weren't sure of his age, but the vet commented that he outlived his teeth (he only had about two left). We got him about six years ago with his buddy, Maggie, who has passed on last winter. And yet, Ginger kept hanging in there. He had a severe liver infection over the winter that nearly killed him, but he recuperated on antibiotics and kept going, despite his body continuing to deteriorate.
When we first got Ginger he was generally a jerk. He would threaten to head butt my husband (a sign of dominance) and would lean over the fence if my son was nearby and pull his hair with his teeth! My son learned to fear Ginger and my husband mostly disliked him (especially when he severely sprained his ankle because of the goat).
I've generally had an okay relationship with the grouchy goat. I tried to treat him kindly and in the end, he usually just wanted pets (some goats are just like dogs who want attention). Of course, I didn't appreciate him pulling my son's hair and I always warned my kids and their friends to stay out of the pasture with the goats, but generally, he was an "okay goat" in my mind (think of a family pet that you weren't very close to, but tolerated well enough).
Recently, in his elderly years, he became much nicer, to people anyway. Maybe he didn't have the energy or the will to try and be dominant, maybe he realized that it doesn't really matter, or possibly he knew that he was old and vulnerable and just couldn't be on top anymore. Whatever the reason, Ginger had softened. Almost anyone could approach him in the last few months and he would just look to see what you might have in your pocket for a snack, or an ear scratch would often suffice.
Do we all soften like Ginger with age? I watch my father interact with my own children. He is a much more gentle and understanding grandfather to them than he was as father to my siblings and me. He watched his own father do the same thing. My own grandfather was sweet and kind, and always nice to us grandkids. My dad has different memories, which is probably typical of any parent dealing with his own children versus grandchildren. Maybe, as we age, we realize how fleeting it all is, and that kids will be kids for a relatively short time.
Still, it seems like a choice for most people as they get older. Will someone realize that all of the worries they once had aren't as important as they thought and just living each day peacefully and contentedly is the path to be on, or, as we all have seen, do they choose to be angry, cursing any new trend, and repeating how good "things used to be," and generally being, well, a jerk like the younger Ginger was?
I'm hoping to take my lesson from the old Ginger, regardless of why he became nicer and realized that the fight isn't worth it, he changed from an "ornery old goat" to a "relatively nice old goat." I'll go with that description for myself, human or otherwise.