Your first question after reading the title above might be, HOW? Who cares about all the details, the answer to HOW is the most pressing. So, short answer – eat within a designated set of hours, go to bed and wake up at decent times (without the assistance of a screen), and moderately exercise. There you go, it's that easy! Or is it?
I recently finished the book The Circadian Code by Satchin Panda, PhD, a professor and researcher of biological studies. According to him and his many hours of research (along with others), he has studied the positive and negative effects that occur when we live within or outside of our circadian rhythms. He says all animals (humans included) have three: eating, sl

eeping, and activity. And living according to them is better for your health overall, including maintaining or losing weight, and getting beneficial sleep.
The first, eating, means you maintain all of your meals within a Time Restricted Eating (TRE) schedule. (Some may know this as intermittent fasting.) With TRE, the goal is to consume everything within 8-12 hours. That means from your first bite or sip in the morning to your last in the evening, except for water or herbal tea (others think black coffee and unsweetened creamer not exceeding fifty calories is acceptable in the morning before your first meal, but no nightcaps or that evening glass of wine, sorry).
Panda says the more you can restrict the time (to eight hours for example), the more weight you will lose. He has observed two people eating the same diet, one sticking to a TRE schedule and one not; the one with the schedule lost weight (even without a specific low calorie or low fat diet). This weight reduction happens over time, however, no ten-pound losses in a week, but as your body gets accustomed to this timeframe, you will start to shed pounds.
My husband started a new diet and exercise program, which involves eating specific types of food on different days (i.e. a low carb day, a macro day, etc), but a key part of the program is sticking to an eight-hour eating window. It has worked for him. He's lost weight and inches, while gaining muscle (doing their targeted workouts). [Unfortunately, for someone like me who gets migraines from not eating for long periods of time, eight hours is unrealistic (I tried and got a migraine on two different occasions). I can do a 10-12 window fairly easily, however.]
Panda says that your stomach needs 12-13 hours of rest each night. During that fast, mostly while sleeping, your digestion slows and other important processes take place. Eating (or drinking anything but water) at night is especially bad for you because, as the author says, "the kitchen is closed," and your gut is not prepared to start working again. As a result, that late night snack sits in your stomach until morning, often resulting in indigestion and acid reflux throughout the night.
The second circadian rhythm, that many of us know best, is sleeping. Besides the pain of jet lag or daylight savings, our bodies need a set number of scheduled hours of sleep each night (roughly 7-9) and it must be "quality sleep." That means limited light exposure and few interruptions. Blue light from screens keeps our brains awake. They cause us to produce melanopsin instead of melatonin at night (the first is a light receptor in our eyes that wakes us up, the second is the hormone that induces sleep).
According to Panda, a full 7-8 hours of sleep a night is the time needed for the brain to do its work of storing memories and repairing itself. He recommends keeping devices out of the room, sticking to a schedule of similar bed/wake times, and wearing an eye mask if the sun wakes you up. Kids and teens especially need these important hours of sleep (and more for younger children) as their brains are rapidly developing.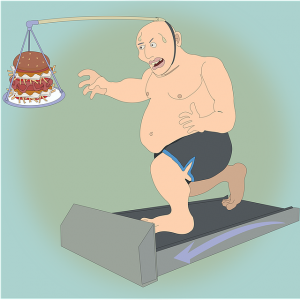 The final part of the "code" is activity. Panda says that exercising before your first meal will burn body fat, not the meal you just ate. Doing so outside in the morning offers good sun exposure and wakes our brains up faster. As an added bonus, exercising will stave off hunger for a few hours, allowing you to fast a little longer. It also improves brain health (along with countless other benefits that I won't list here).
So, to summarize Panda's recommendations to "maintain a robust clock and maintain brain function," as well as staying healthy, losing weight, and possibly sleeping better:
Get adequate sleep (according to a predictable schedule) with limited light exposure
Consume all meals within a time-restricted-eating schedule (TRE)
Exercise
Get exposure to daylight each day
I know that all four of those are often easier said than done, since our modern world complicates matters, but he says to start small and build from there. Good luck!