Did you ever notice how much time others spend with their faces in front of their phones? How about yourself? I am guilty of it too. It's hard not to pull it out when we have a spare moment to see what the weather or traffic will be like, distract yourself with a game, text someone, or watch the endless scroll of social media.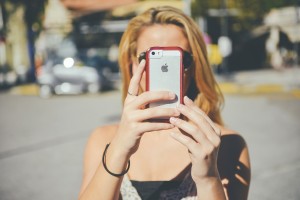 But what did we do before getting glued to this ultimate shiny object?
At my kids' sports practices nine out of ten parents are looking at their phones. What did they used to do before that was an option? Watch the practice? Read a book? Stare at the wall or the sky?
In line at the grocery store what did people do? Look at terrible tabloids to see which celebrity or politician was abducted by aliens? Stare at the person who is taking too long and get annoyed that he or she is writing a check? Let's not even bring up how many kids are glued to them as they are pushed in the cart through Target or Costco, or sitting in a restaurant mindlessly watching a show while everyone else dines.
I am guilty of all of the above (except the restaurants, that really bothers me), but what are we missing out on? I was, and still am, one to bring a book wherever I go so I suppose that I have always craved some type of distraction. You can read quite a few chapters while getting your oil changed or waiting in that endless coffee line. I remember getting my first smart phone and telling friends that I used to people-watch in the grocery store and observe what was happening around me, and I still try to do that, but when someone is having a price check or deciding on something that takes awhile, I'll get out the phone.
Are we doing a disservice to ourselves by getting sucked in or allowing our kids to be? Yes and no. All parents want to do is shop in peace and not be hounded with "can I get that?" or "I want that!" so I understand the desire to stick a phone in kids' hands sometimes (not to babies though, come on); but at a restaurant I tell my own kids to look around: watch the people, the food being served, that guy trying to eat his spaghetti that keeps falling off his fork during his obvious first date. Pay attention. They're not too keen on that idea, and it often ends up being a big headache with relentless whining until I threaten that they will never use anything smart again.
And what did industries and companies do before smart phones or cell phones? On our summer vacation this year my husband checked his email on a daily basis and his boss asked him to write two proposals because the due date was in two days. He did that while we slept at night, forgoing his own vacation time. What did people do before that? Do the proposals themselves? Say sorry, we have no one to do that at this time? And, more importantly, what would happen if my husband turned off his cell phone and left it at home? He's not willing to entertain such an idea (…yet).
My last observation concerns our kids dependence on us through their phones. A few people I know have kids in colleges far away. Once upon a time, college newbies would have to write letters or wait in line at a dorm phone to contact their parents. Now, they can do it immediately, in any situation. In some ways that is a good thing. We all need some moral support from parents occasionally. But in other ways, it prohibits them from figuring out basic problems on their own. One friend's daughter called to ask her mom where to buy a stamp, yes, a regular postage stamp. Figure it out! And don't ask Siri or Alexa; just think about it.
There are many times when I wonder what would happen if the whole grid shut down and we couldn't use anything "smart," and most of me thinks it would make life easier. Would it though? It's a double-edged sword and one that we must work at and be conscious of all the time; otherwise we run the risk of becoming anti-social screen zombies. Need brains? Just pop on over to your Amazon app and order one up over your phone, should arrive in two days if you have Prime (and thankfully, yes, I do).