It is hard to believe that it has been sixteen years since 9/11. Those of us who were adults or young adults at that time still remember exactly where they were when the horrific news was broadcast. I was getting ready for work in our small, crappy apartment. I had the news on the TV in the background and caught images of the Twin Towers broken and aflame as I got my purse, ready to leave the house. I went closer to the television and thought that must be from some other country, not here in United States. And then, as I drove to work and turned on the radio, the two goofy DJs who I normally listened to with their practical jokes and bad sexual puns were quite serious this morning. They relayed the little information they had: it truly happened; someone had attacked US soil in a massive way in New York City and Washington DC.
When I got to work, which was in a construction trailer on a job site, the usual joking or complaining of guys who filed in and out were very quiet. Many were huddled around my desk radio listening for whatever news they could get. This was no joke; this was no prank; this was real and none of us quite knew what to make of it.
History books talk about how the Great War (WWI) change the lives of everyone forever with the modern inventions of trench warfare, the machine gun, and mustard gas. They also write about how D-Day and World War II continued to make our lives different so that no one could go back to the "way things were." The United States especially felt that with the attack on Pearl Harbor. For Americans living in the twenty-first century, 9/11 was the day the world changed for us civilians. Suddenly, we were not invincible; we could be affected in very large ways by people who wanted the Western world to end. They had not succeeded fully, but their attempt was significant and they accomplished their goal of inflicting great pain, worry, and anxiety about the way we live our everyday lives.
I remember watching President George W. Bush standing at Ground Zero and making a speech. And although I did not care one bit for that president at that time, I do think he held the country together well during that moment in such crisis.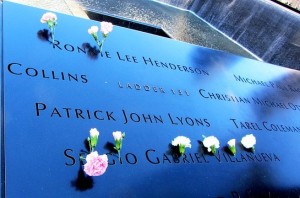 We were all scared and confused and utterly flabbergasted about what happened. I remember thinking that some of his words were actually helpful (even if he didn't write them). But unfortunately, as what often happens when a tragedy occurs, within a few days time the finger-pointing started. Who is responsible for this? Who's fault is this? Who dropped the ball so that these men could board planes and crash into the Towers and the Pentagon? Who is to blame? That is what many people want to know in the end because they think it will stop their pain. If they have someone or some entity to accuse and can prove it's their fault, then that will alleviate the grief. But it ends up just being a distraction in the steps to accepting the pain and the realization that this tragedy happened, could possibly happen again, and what we can do to avoid that.
Since that time, sixteen years ago, thankfully nothing to such a scale has occurred again. But little by little we are experiencing more and more small, but still tragic, incidents in Europe and here in the US. It is still incredibly sad and frightening: the faces and the organization may have changed but the problem still exists. Rooting out the culprits and sticking them on some island prison or killing them outright does not solve the problem. It just morphs into something or someone else who has the same sentiment. While they continue to truly believe our way of life is wrong and we are evil, we will always be in danger.
I think we would be better off if we took these key people, made them live in the United States (under extreme security measures obviously), and showed them that the majority of us aren't all that bad. For the most part, we are compassionate, empathetic, and caring human beings who are living everyday lives like everywhere else in the world.  (We could also expose them all to some terrible stomach flu with it coming out of both ends, then pretend we cured them; they would be thankful after that, if anything.) Then they would go back to their countries and tell others, including and especially future generations, "Those Americans, they're okay. They were nice to me and I can eat solid foods again. Let's not destroy their way of life because it's just different from ours, not bad." That is where people seem to get stuck, in the differences. If we're from the United States, or Europe, or from North Korea for that matter practicing whatever religion, we are all just human beings. Homo sapiens attempting to continue sustaining life on planet earth. Why any of us feel the need to end the lives of fellow humans in the name of whatever god or country or whatever moral rules they feel are being broken still continues to be incomprehensible to me.
And that is part of the reason why 9/11 is still a day that sticks with me and always will. Besides the fact that the country did change that day and has changed since, we're still in the same fight, still at odds with others who don't want us around and, likewise, we don't want them around. Where does it end?
In the words of good old Gandhi, "An eye for an eye only ends up making the whole world blind." Or, in the words of a very different person from a smaller, still violent, historical event: "Can't we all get along?" I continue to hope so.