Being comfortable with being clueless, or feeling okay about being completely ignorant in a given situation, is not a skill that many of us can do well, but I wish I could. Being in the space of learning something new, having the expectation to perform (fairly) well, while admitting that I really don't know what I'm doing, is extremely difficult for me, as it is for many of us. We all want to "know" everything right now, eliminating the possibility of looking stupid. That, of course, is not always possible.
Last summer, for example, I took on the job of "computer person" for my kids' swim team. This role entailed learning the software that the team uses to manage the swimmers and to run the meets. That, in itself, did not seem too difficult. Usually, I can pick up on new programs fairly quickly. But, as I soon discovered, there was a lot more involved than just figuring out software. I had to be at every home meet and  get everything ready to start the meet, including changes made by coaches,  fixing any issues with the program then printing them and other needed forms to run the meet. People waiting on me, and me alone, to get this meet going – now. Then, during the course of the meet, I was in charge of making sure times got entered and results printed. If there was a question about an event, it fell on me. It was a lot of pressure and I felt a lot of anxiety starting out.  I put myself in a position in which I did not know what was going on or what I supposed to do about it. My kids swam on the team last year, but my biggest contribution was running the snack bar. I had no clue about what happens "behind the scenes" at a meet, and how it all ends up with the meet results on a nice piece of paper for everyone. I was definitely clueless, signing up for the job, and in executing it.
As adults many of us do not put ourselves in brand new situations. We might get a new job or go back to school or travel to new places, but there is some element of familiarity in it. Most likely, we get a new job doing the same thing we did at our old job, we take classes but we have gone through school before, we might visit a new place on the globe but more than likely we have a ticket to go home. Few of us sign up for a sport that we have never played, learn a brand new instrument,  take on a completely new career that we have no experience in, or pick up and move permanently across the world to an unknown place. We do not often have the experience of being completely clueless and out of our comfort zone. We're grown-ups and we don't have to do that anymore.
And yet, being completely clueless in my new role as "swim team computer person" and not enjoying the feeling, I realized how often we ask our kids to do just that – jump in without knowing a thing.  "Don't worry, you'll be fine," we usually say to them. "That's okay, no one else knows what they're doing either, just get out there and have fun," we might encourage. My daughter signed up for basketball last winter for the first time. She was eight and never even attempted dribbling or shooting baskets (she was too short to reach the basket except on a fluke shot), but she showed real interest so I signed her up. Before her first game, she was very nervous. She claimed that she didn't know how to play or what she was doing. I tried to tell her that it was okay to feel nervous because it was her first game, and that she should try to "observe" the game more than play in it. "If the ball comes to you, just pass it to your teammate. No one is expecting you to know everything during your first game."
It was hard for her, but she did it. The opposing team ended up being a couple years older and a grade higher than her team; they were also well practiced. My daughter's team got clobbered (to the point where they stopped keeping score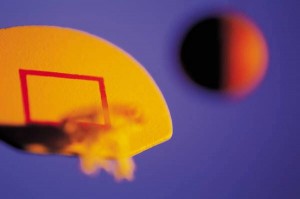 on the other team because it was so high). Players and parents were stunned and bit disappointed that they were so outmatched, but at least my daughter was in the same boat as her teammates, taking the defeat together.  Seeing her get out there and try, in front of many parents and other kids, was a realization for me. It is hard to put yourself out there, not knowing what you're doing, and not wanting to screw it all up. She got out there, though, and I was proud of her for trying – with my view from the sidelines. Obviously, that was not something that I personally wanted to do. And yet, that following summer, I did. I walked into a job being completely clueless. Was I comfortable with that? No. But did I do it anyway? Yes.
I did catch on to the intricacies of the "computer person" job by the end of the swim season, and I wasn't too bad at it. It taught me that, even as an old person (in my kids' eyes), I can learn new things and use my brain. I didn't do everything perfectly, but I figured out why I screwed up each time that I did. Now, since it is over, I am grateful for the experience, and I have a new respect for my children getting out there and doing new things. As adults we all should get out of our comfort zones and be clueless sometimes, despite feeling uncomfortable.
Now that I have put the responsibility on everyone else, I'll go back and watch my kids do it for awhile.