Here is a re-post from four years ago (with some tweaks and updates) that still applies today.
Much has been touted about the benefits of thinking with gratitude. If we can be truly grateful for what we have, we are supposed to feel happier, be less stressed, and experience life with more joy, overall. It's true. If you stop and think about two things you are grateful for that happened at the end of the day, be it the guy who let you in on a crowded freeway or that you got your kids to school on-time with no complaint from anyone, a little gratitude can go a long way.
But sometimes it's just too hard to be grateful, or to truly feel it in difficult situations. If you're behind on bills and have nearly run out of money, thinking about how grateful you are that you're not starving to death in a third world country, or that you don't have some terminal disease, doesn't really help matters. Granted, you might feel truly grateful for those things (I know I do), but it does not change your attitude or situation for the most part.
A shift in perspective when gratitude isn't working is to think in terms of abundance. This means seeing what you have instead of what you lack: abundance instead of scarcity. Many of us see our lives in terms of scarcity only – what we don't have, what we want but can't get, what we think we will never have. Advertisers bombard us  with the latest things that we just have to have, be it a gadget or a lifestyle, and show us how much better they are with those things. Social media can show us (often falsely) of the perfect life we think we "should" have. We can't help but think we are lacking, and when we try to be grateful for what we do have, we still don't feel truly glad.
Thinking with abunda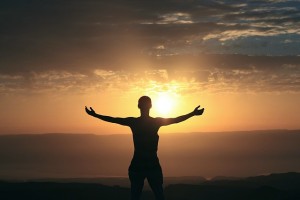 nce in mind means looking at situation and seeing the possibilities in it instead of the lack. Back to the example of being behind on bills and money, we can see the piles of bills and the small stack of money with which to pay them, or we can see the possibilities we have in creating more wealth and paying those bills (which could be anything from a second job to a yard sale to selling unwanted collectibles on E-bay), and we can be grateful to have the opportunity to do those things. We can see how to make that money stack grow instead of continue to shrink. Will that solve all of your money problems? Not yet, but it is a start, a way towards seeing the world in terms of offering you opportunities instead of stripping you of everything and just being glad you don't have to worry about eating cat food for dinner or contracting Ebola.
Steven Covey states it well, "The Abundance Mentality… flows out of a deep inner sense of personal worth and security. It opens possibilities, options, alternatives, and creativity." This can be difficult to do when you had a bad day at work, you find dog crap  on your shoe (again!), or all of your dieting has equaled to weighing more instead of less, but instead of going to extremes and trying to be grateful for things that you can't really connect with, try to stop and see the abundance in your life. That may mean just accepting that things aren't perfect right now, but trusting that they will get better, reasoning that you usually have more good days than bad at work (the dog as well), and that you do actually feel better and your pants are looser even if the scale doesn't say so.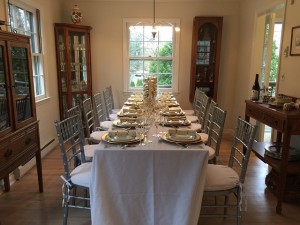 One current example in my life is my choice to take a break from alcohol (more on that in a future post). As I have now noticed, alcohol is everywhere and people are drinking it everywhere too. Instead of seeing all of the beverages I cannot (choose not) to drink, I will focus on the abundance of non-alcoholic drinks that are available (even if it means providing my own). So, as the holiday comes and we sit at the table with our families and friends, try not to focus only on the one person who antagonizes you or triggers you. Instead, notice the many people you enjoy being with, the table covered in food, and the one day out of the year when we overeating is encouraged!  Abundance abounds (when we choose to see it).