From Part One: Bringing Home Baby
"I think society really does not let the world know how hard it is to be a mom. We are all supposed to act like it is this wonderful thing all the time … I don't think moms want people to know if they are not enjoying being a mom, because how dare you even think it? The truth is that it is a hard job, and society does not show that." -Nancy
I read the popula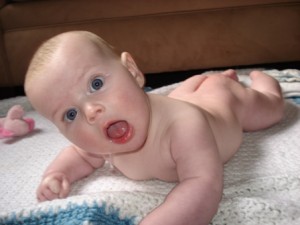 r pregnancy books before I gave birth to my daughter. My husband and I took the classes on delivery (which I found scary instead of comforting). I went to the breastfeeding class. I talked to mothers with both young and older children. Few, if any, of these sources could prepare me for the life transformation that a baby actually brings. What was more frustrating was that no one warned me that this was a complete life change. Having babies and entering motherhood is so commonplace in our society that few people stop to think about how our lives are transformed by a baby. One reason for this might be that the women who have experienced motherhood, like grandmothers or mothers with grown children, quickly forget what it was like that first year. In the time span of your child's life there is so much that will happen, from his first steps across the living room floor to his stride across the stage at high school graduation, it is easy to forget what that first year was like. There are also those moms who blend into motherhood so easily that it appears they do not have the same experiences or feelings that many of us do. I am confident in my belief that these mothers are part of a very small minority, and even they have difficult times coping with the responsibilities of motherhood sometimes. There are some of us, too, who do not want to admit or accept this permanent change that happens in our lives. I wanted to have a baby, but I was afraid of the idea at the same time, and I did not want to believe that a baby would change me, my husband, or our marriage. My thoughts were: What if this is not what I expect? What will happen? I cannot go back…right?
For the majority of us, experiencing motherhood and a new baby is both amazing and shocking. Here is a human life that you and your partner made. She spent nearly ten months inside of you growing and developing, and here she is in your arms. The process of life is breathtaking and miraculous. It does not matter that humans and animals have been doing this for millions of years; when you are the one who has actively participated in the process, it is astounding. For the first few months of my daughter's life I marveled at the idea. I simply could not believe that 1) we created this baby who is here with us now, and 2) that she really came out of me! Right in front of me was a real baby who had swelled in my belly with her heart beating, her body moving around and showing up on the ultrasound. While I was pregnant I understood that she was there, but could not quite grasp it. Then, once she was out in the world, a tangible live human being, I was astonished. The change seemed to be instantaneous: one minute you are pregnant and the next you are a mom. I did not know what to make of it.
But, as we all soon learn with our babies' cries of hunger or discontent, they are here and they mean business. Feed me, rock me, change me, hold me…wait, I don't know what I want! my daughter seemed to say. And quite honestly, I had no idea what she wanted either. I felt like I was thrown into a play already in progress. I did not know my lines or where I supposed to stand on-stage. I did not even know what character I was playing. But everyone else did. I was "the new mom." And I felt like I was going to receive some bad reviews for my performance. I struggled to keep up with the needs of my new baby during the first few weeks. Was she hungry? Did she have a dirty diaper? Was she hot or cold? Did she need to be swaddled or maybe have her blankets loosened? Sometimes none of the answers applied. Sometimes it was just walking outside and seeing something new that calmed her down (or worked her back up into tears). There were no consistent answers, and I had a very hard time accepting that.
"I felt overwhelmed by the gravity of it [having a new baby]. I had never been in a role before that was a never-ending, twenty-four hours a day, and that was entirely mine, even with my husband's support. I still feel there's never a real sense of utter relaxation, I mean in the way there was before I had another life to protect." -Kelley
I attended college and worked in an industry where there was almost always a right or a wrong way to do things. In school it is fairly straightforward: you perform the tasks asked of you and receive a grade for your effort. At work it is similar, you show up, do the duties of your job description, and receive a paycheck. It all makes sense. A new baby is quite different. We try to interpret what this little life needs when he may not know hims
elf. The adjustment of just coming into the world must be overwhelming for a baby. He is nestled in a confined, warm, dark place listening to the steady sound of a heartbeat and other bodily noises. Then, probably without warning, muscles around him contract and he is pushed out into the world of bright lights, loud sounds, and a place that makes his body feel cold. Just learning what these new sensations are must be exhausting. (There is a reason we have no memory of our births, afterall; it is probably too traumatic for us.) So we care for him. We hold him, we love him, we offer him a breast or bottle, we try to make him as comfortable as possible in this new and strange world. But in the end, we really do not know what is going through his new and functioning mind. We do our best, but it might not be right. And if it isn't, then we often hear about it, very loudly. It is extremely frustrating to make blind guesses and not know whether it is the correct answer. Yes, the crying may stop, but does that mean the problem is fixed? Maybe, temporarily, this time. Grasping this understanding that the right solution doesn't always exist was extremely hard for me to take. Why can't I plug in the correct number and get a solid answer? Because, I realized after many months, this little being is human and she possesses the complexities that all of us have: emotions, feelings, needs, and wants. And she is just now learning what all of these things are, and who exactly I am, that person who holds her, feeds her, and tries to console her. Sometimes she might have been crying to release all those emotions that she did not understand. In the end, I felt just as confused as she probably did.
A therapist I know describes becoming a mother as a "growth process." We, as new mothers, are growing and changing almost as fast as our babies are as we accept this new role in our lives. The more we resist this change, the harder it becomes. It might seem unbelievable that you and your spouse were released from the hospital in charge of a brand-new baby, but you were. You are now parents. As we left the hospital, I sat in the backseat with our new daughter (yes, the paranoid new mom in the backseat) while my husband drove. It was a warm day for late October and the sun seemed especially bright. As we drove away, I cried. And cried, and c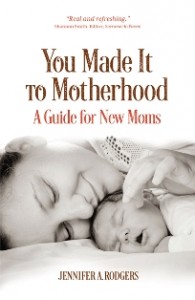 ried. I blamed it on an influx of hormones and exhaustion. My husband looked nervously in the rearview mirror, "Uh…are you okay?" he asked. I assured him that I was fine, but the tears needed to come out. I suppose it was just a release after a very long labor, and the actual realization that this baby was coming home with us, ready or not. Our lives had changed.
"I was so worn out [after labor] I wasn't thinking much beyond 'get me out of this bed.' Then curiosity about the baby set in, followed closely by terror. I had never been around little kids before, let alone infants, and now I was responsible for this little thing?!" -Leisel