Recently, my husband discovered that he will move-up to the next level in his engineering firm. It is a big promotion and one that is not offered to everyone. He deserves it. He works hard and is a careful engineer. I am happy for him as he is not always acknowledged in his job.
Although I truly am happy for him and his success, I can't help but think of the lack of awards for mom and dads who don't work in typical industries. There are no promotions for parents. No one comes up to me after a difficult phase and says, "You did a great job handling the incessant whining and constant tantrums for the last two months, you get a promotion and a raise!" or, "You limited your child's screen time everyday despite the battle it causes, congratulations! Here is a certificate of appreciation and a free pizza."
If anything, most of us are grading our own performances and we don't think it stacks up to "CEO of Parenting." Who makes it to that stage anyway? Maybe once your kids are grown and lead somewhat respectable lives? That is a long time to wait to find out about your job performance.
So what can we do?
1) Accept that this unique and important job does not come with the traditional accolades or acknowledgements of a job well do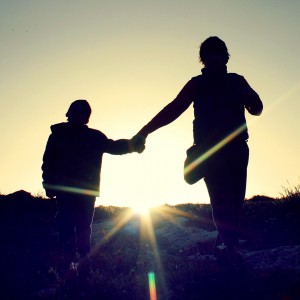 ne. If your children are relatively content in their lives, even with the frequent complaints about life in general, assume that your parenting is up to par. All kids, all people, typically want something they don't have, so if you child's biggest complaint is that he wants his own tablet and doesn't want to share with his brother, then you're doing fine.
2) Look within to judge your performance, but be truly honest. The reality is that sometimes we could all do a better job with anything: your mechanic could have cleaned up the grease splatters after working on your car, the sales clerk could have gone and checked to see if she had your size instead of giving a flat-out no, high-ranking officials get no forgiveness no matter what they do. Sometimes we could have done better, but just try to do your best on any given day. And be careful not to get caught up in the trap of perfectionism. Perfection in parenting does not exist. Children and their parents are too unique and everyone needs something different. One day your daughter would have been soothed by some encouraging words and a hug, the next time she wants her space and shuts her bedroom door instead. We cannot know; we can only go with what we think is the right thing to do in the moment, and not condemn ourselves if it was not the best choice.
3) If you really want feedback, ask others. It is beneficial occasionally to ask other people, "Do you think I did okay there?" "Are there any other ways I could have handled that situation?" That can pertain to parenting your children or dealing with an unhelpful representative from the phone company. Be sure that you truly want feedback, however, and not validation for the wrong you felt you received. And ask people who would really think about the situation and give helpful feedback, not someone who is quick to point out what you did wrong, or quick to placate you.
I think we can all agree that parenting is not an easy job, especially if we want to do it well and have children who are ideally kind, respectful, and interested kids (I deliberately left out "happy" there because happy is a subjective feeling that comes and goes – in my opinion. If we wanted to keep our kids happy, we would hand them a bag of candy and an iPad, in most cases).
Most of us just do our best, try to be good examples, and attempt to understand the world from their limited child's view (which can be a freeing way to look at the world sometimes!).  As far as our own performance review, we must accept that this job does not come with them, and possibly stop looking for them. That is difficult for me, as I said, watching my husband excel while I try to think up more interesting lunch possibilities, but I know deep down that I am doing the best job that I can.