Starting out the new year, I decided to cut out dairy (I found out that I am intolerant to it) and wheat (in support of my daughter who is intolerant to that). While I was in this mode of banishing foods, I decided to do Arbonne's 30-day cleanse.  Foods cut out on this cleanse are: wheat,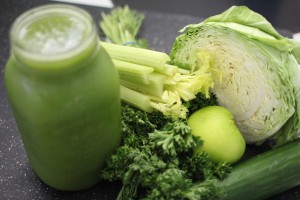 dairy, corn, soy, sugar (including nearly all fruits), caffeine, and alcohol. I figured "why not? I'm already cutting out a lot anyhow. It shouldn't be that difficult" ("ha, ha, you fool!" my future self thought).  I also wanted to see if there was a link between food and my all-too-frequent migraines and this would be a good way to find out. Haze, my husband, graciously agreed to support me and do it too. Here is my take on the four weeks and two days.
Week one: It's been painful. I won't lie. I'm not a big food person, and being a vegetarian I am used to not having three-quarters of any menu, but cutting out so much is tough. I am personally surprised that I made it the whole week. I kept counting each day. "Day 3, make it through day 3. Okay, day 4, I can get through this day…" and so on; and then, boom, one week is down. Making it to day 30 now seems possible, but let's be honest, I'm not there yet.
I noticed that I am hungry A LOT. I am tired. I depended on my morning coffee more than I realized and there were a couple of times that I had a cup of green tea (with nothing in it, mind you) because I needed SOMETHING, or at least I thought I did. However, part of my reasoning for embarking on this is to see if there is any pattern to my migraines. Besides the caffeine-withdrawal-dull-ache at the back of my skull that I had for two days, no migraines. In fact, without coffee, my head feels better: no tense jaw muscle or tight neck, and when I get hungry and should have eaten an hour ago, no oncoming signals of a migraine or shakiness. Could my greatest love, the java, be part of problem? Sigh, I hope not.
Side note: I also learned during this first week that you cannot substitute cayenne pepper for chili powder. And eating that incredibly hot chili makes your stomach burn, however you will not feel hungry for quite awhile (until the stomach lining is not on fire any more). I failed at some other recipes too, but all learning experiences.
Week two: The first part of the week went by fast and I was on the path, then by Friday I wanted "flavor" (that's what I thought to myself). In the end, I think I wanted to sugar or possibly carbs. This continued, with a cranky mood to boot, until Sunday when I thought I might be getting the flu so I laid in bed and felt sorry for myself instead (but the craving went away!). I also woke up that morning with a headache that felt like a pounding sinus headache and would surely lead to a migraine (but didn't!). Up until this point I haven't had any other migraine symptoms, to my surprise, which makes me wonder why I'm on the verge of one now. I do keep waking up in the five o'clock hour, so I'm tired, which is always a contributing factor. And the weather has changed from warm to cold with rain which never helps the noggin.
Week three: During week three, a cleanse is added to the cleanse (because we just can't get enough) with a detox liquid that is diluted in 32 oz of water (tastes like a weak tea) then it's recommended to drink another 32 oz of water to really flush everything out. Drinking that much fluid, with it constantly going through my body, gave me the added distraction of feeling full from liquid and running to the bathroom to void that liquid. However, by day six, I was tired of drinking so much. I felt a little like Dumbledore  drinking out of the basin for Voldemort's horcrux ("No Harry, no, please, no more!"). But I got through it. The other added difficulty was overwhelming sugar cravings (due to hormones I learned) that I usually give into, but didn't this time so I was slightly cranky about that, however I managed to stay the course.
Week four + 2 days: This last week feels triumphant, "Nearly there!" I think to myself on Monday, but the week drags on. On Thursday I woke up convinced that my husband was brewing coffee, and it smelled so good! Then I was angry, "Why is he brewing coffee? We can't have that!" Once I actually got out of bed, woke up a bit, and went out into the kitchen, I realized that no coffee was brewing. In fact, a skunk had sprayed near the house during the night and that's what I was smelling. "I'm hurtin," I think to myself. The week continued on slowly. I had to cover my nose in a meeting because someone made microwave popcorn and it smelled delicious. By Sunday, when I think it should be over and it's not, I'm ready to give up, but I don't. The success of not having headaches is obvious. To give in now, to gorge on pizza, beer, chocolate, and coffee (yes, all at once) would be to sacrifice all I've worked for this last month. So I don't. I eat another green apple and carry on.
Final Day: It seems like twenty-nine days was so long ago. It's hard to believe that I've done it! I'm glad and weirdly, somewhat sad. I'm also nervous to go back to "regular food" for fear of bringing migraines back. I've decided to make a detailed food log each day to track what might be the culprit.
To end, here is my list of pluses and minuses and Haze's pro/con list for this uplifting and sometimes anguishing 30-day cleanse:
Jen's Plus and Minuses:
Pluses
– My migraines diminished significantly.
– I was forced to plan out meals and be organized about it (which I'm usually terrible about).
– We tried new recipes that I would otherwise not make because it didn't sound appetizing or I was too lazy.
– I knew exactly what I was putting in my body; no questions about ingredients I can't pronounce or lab-created chemicals.
– Feeling good – I'm not sure if this was due to just eating better or not feeling guilty or shameful for having overindulged in sweets, caffeine, or alcohol. When you can't have anything, there isn't much to feel bad about. It also taught me that I can persevere; and if the world ends, I have a Granny Smith apple tree and a pistachio tree that I can live off of.
Minuses
– The same old foods get boring after awhile. This mainly pertains to snacks. I'm pretty tired of those nuts and green apples. My husband would rather feed his daily lunch salad to the goats or throw it out the window of his office. There are a variety of recipes to make, but we're ready to take a break from beans for awhile (in taste and their digestive payback).
– Planning every meal can be difficult. Grabbing something and going is not an easy option with this cleanse. Traveling for work made it difficult for Haze at times; being in a meeting when they serve sandwiches for lunch is hard (he looks a little weird picking the entire thing apart and munching on the lettuce while scraping off the mayo).
– Going out to eat or to parties is prohibitive. The majority of restaurants have nearly NOTHING that would satisfy all the elements of this cleanse, even a salad would have dressings that we couldn't eat (and then what's the point?). Bringing food to parties is an option, but who wants to hang around a bunch of people stuffing their happy faces only to look on forlornly? Not me. We stayed home and had another green apple.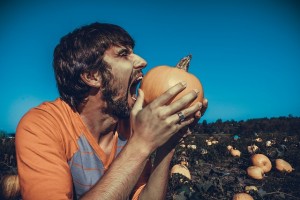 – Being hungry. The first one to two weeks are hard. I was hungry, really hungry. That is pretty typical when a diet is changed so drastically, but for me it would still come back at times and I was ravenous. Eating more carrots and nuts just didn't cut it. After awhile it would go away, but sometimes it would be back, my mind tempting me with all sorts of contraband. Haze and I dealt with it (he better than me because he didn't feel hungry all that often). Knowing there would be other options out there (after it's over) was helpful to my mind and body.
Haze's Pro/Con List:
Pros
– Lost weight without feeling really hungry like a regular "diet" usually does (he lost 18lbs and 2.5 inches around the middle; I lost 4lbs and an inch).
– Feeling better (according to Haze, he doesn't feel "outstanding," but "feels better" in general).
– Digestion also feels better (again, no real elaboration, but he does think things are going more smoothly than before).
Cons:
– Food limitations – he missed having a nice cup of coffee in the morning (and bread).
– The inconvenience of making every meal (no easy take-out options).
– Lots of gas (no need for elaboration here).
My take-away from this whole experience is that it's worth doing. Even though it was tough at times, the benefits outweighed the pain. When I asked Haze, "Do you have any real take-away from all of this?" His answer was, "I do feel better than I did before and weigh less, which is good, but you have to get used to farting a lot."
Oookay, enough said.